Portland Activists Vs The KOCH Machine
April 15, 2011
Ignored by the Professional Left, and local media caught off guard, yet scorned nationwide by FOX News, a small band of activists face down the Tea Party in Portland's Pioneer Square.
Video shot, edited & owned by; MrKellysCorner
At 00:41, the woman holding the clipboard and closing her umbrella is the wife of John Kuzmanich, Chairman of the Oregon Tea Party.
Between the 2:00-4:00 minute mark, you can hear LOTS of insults from the Tea Party[like Scumbag , Nazi , homeless bums, Unions are SCUMBAGS, the "F" Bomb etc], if you watch closely you see some nice Christian "finger" gestures as well, to go along with those words! The effect that this 2:00-4:00 mark confrontation is having with activities ON THE STAGE can be seen in the NEXT video BELOW.
At 3:35, the wife of Oregon Tea Party Chairman John Kuzmanich , [with Kristina Ribali of Freedom Works in tow], comes out to ask one the counter demonstrators a question, and gets a very honest and direct reply,
At 4:45, one of the Tea Party clowns threatens to "Assault" one of the counter protesters, to which the counter protester replies; "Go for it".
At 5:40, the announcer on stage gives thanks to the police, then the camera pans around at the counter protesters and they are standing there peacefully with NO POLICE in site.
At 6:11, Chairman of Oregon AFP whining about the counter protesters, calling us "Clowns"[he is visibly upset with us], US as in "PORTLAND".
Then around 8:25, [a WEIRD and TELLING comment by a teabagger] some counter demonstrators who happen to be veterans ask one guy why the tea party can' t get behind an anti-war movement, and he states that he'd have to be a SOCIALIST to be anti-war.
At 09:50, Tea Party comedian Stephen Kruiser makes a HANDICAP SLUR by saying "the short bus will be coming to pick up the demonstrators" this comment was edited out of his speech on videos made public by the Tea Party.
The "Dapper Hat" addressed at; 11:32, belongs to the CLOWN in the photograph directly below this sentence;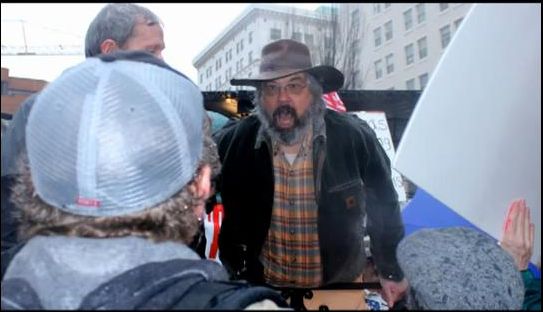 This cranky old bastard was in our face from start to finish, I thought for sure he was heading for a heart attack!

This next video was filmed in front of the stage as John Kuzmanich is attempting to introduce the next speaker; "Ty Raddue". Disruptions heard at "Stage Left"[causing Mr Kuzmanich to ask for security intervention at 0:30], is actually noise generated by the verbal brawl that has broken out between Teabaggers and Counter Protesters as documented in the first video ABOVE at; 1:25-4:50. Because both sides are so deeply engaged in the dispute, everyone involved is oblivious to the activities from the stage. At 2:05, it appears that Mr Kuzmanich sends his wife BACK over to investigate the disruption. The brawl continues throughout "Ty's" speech, and at 4:35, Mr. Kuzmanich himself walks off the stage, in the direction of the disruption


Video shot, edited & owned by; JaniceDysinger
UPDATE [2013]; It seems that even though John Kuzmanish likes to "Run His Lips" about "Fiscal Responsibility", he has been having a bit of trouble keeping his OWN house in "Financial Order"; John Kuzmanich Disappears!
The last band on stage alters the lyrics to The Buffalo Springfield song, "For what it's worth" changing the original meaning of the song from a "War protest", to a DIRECT ATTACK on Liberals and Progressives.
"We The Band" @ the Portland Tea Party Rally"


and NO, conservative musicians DON' T ROCK!
As far as the entertainment, the comedian[Stephen Kruiser] was not funny at all, and that LAST Band[We the band] TRYING to play rock music was AWFUL, the vocals, drums, and ESPECIALLY the guitarist were ESPECIALLY DREADFUL!
Even though both Mike Malloy & Randi Rhodes were notified via Email, and given Video, Information and links, both pundits chose to completely ignore this event, leaving the counter protesters with only one major media source, the "FAIR AND BALANCED" butchering of FOX News!
A counter protester tries to instill calm among some of the more irrational Teabaggers, like the guy in the previous photo with the "dapper" hat;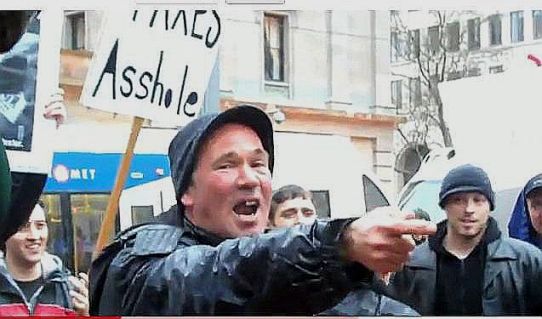 The police form a haphazard riot line upon our arrival
[we were fashionably late!]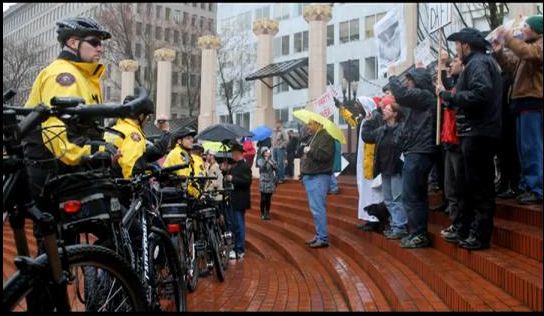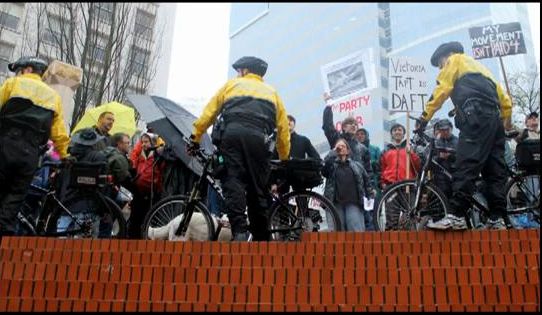 Mrs. Kuzmanich and Kristina Ribali[a "Freedomworks" agent], utilize enhanced interrogation techniques to extract vital information from a counter protester;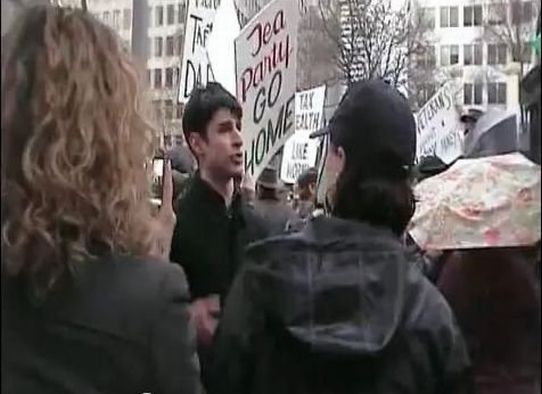 The Counter Demonstrators; engaged, and on message, confront the Tea Party head on.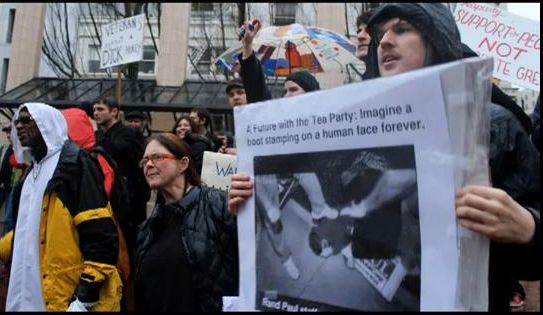 The best disinfectant is exposure to light.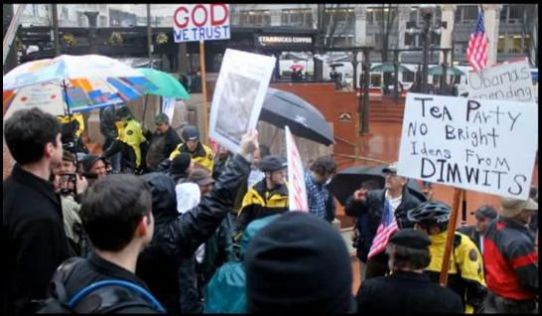 Crowd estimates for Tea Party turnout ranged from 150 to 300, but these photos suggest a more conservative number in attendance.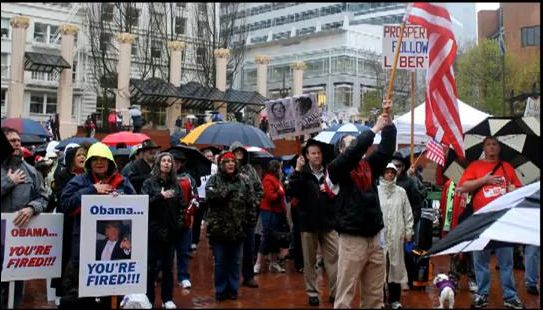 Meet the members of the Portland Welcoming Committee.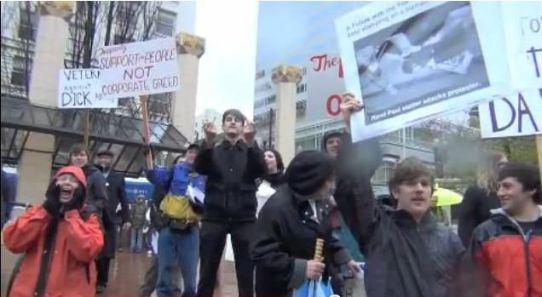 Victoria Taft's prognosis after a mental health evaluation;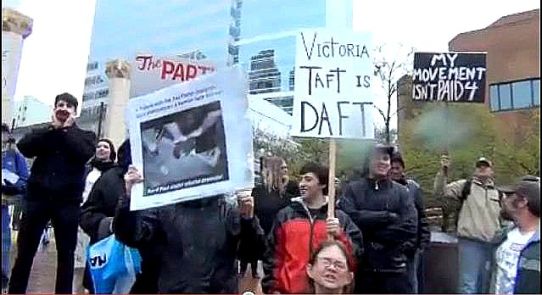 Travel recommendations for the "Out of Towners".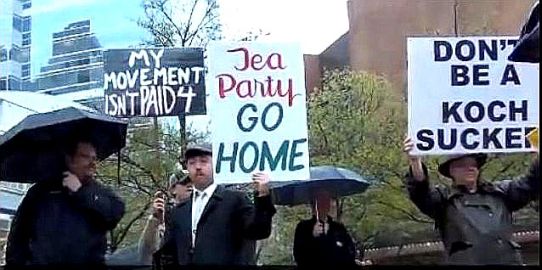 I actually had a Teabagger tell me I spelled the word "Army" wrong
[A-R-M-E-Y = Mr. Dick Armey]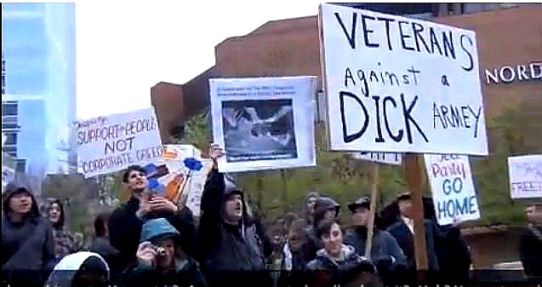 This Counter Demonstrator is taking a photo of Dan Sandini [AKA; daylightdisinfectant], a local Portland right wing propagandist. I hope Mr Sandini received that sign language loud and clear.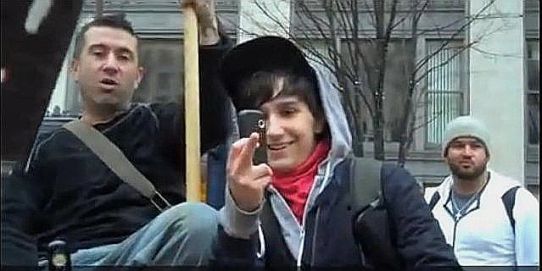 Racist, Fascist, Anti-Gay, pack it up and go away!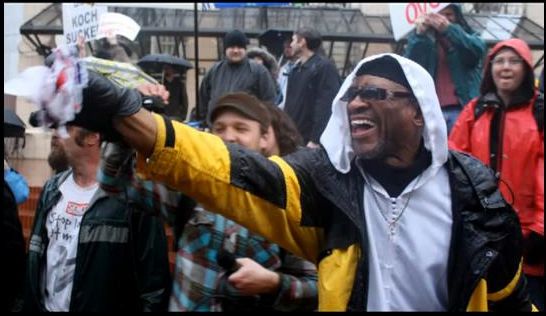 Tempers flare as passion heightens during the exchange of "words".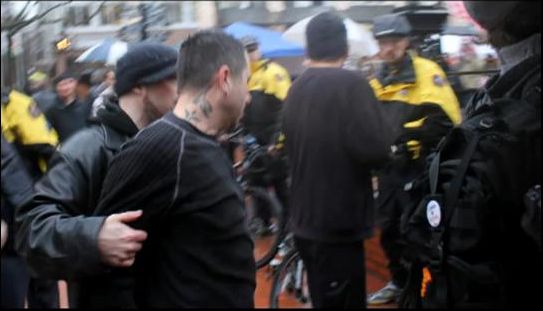 A touching family reunion, as the counter protesters point to an "Uncle Tom " among the Teabaggers!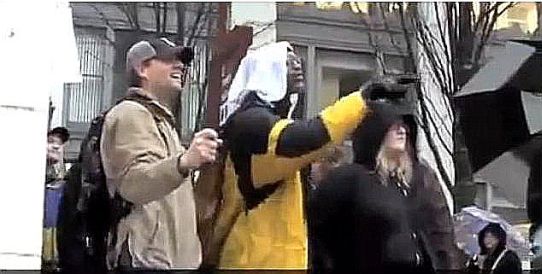 The Tea Party will bastardize the Words of Jesus Christ, and will routinely violate the First Amendment to the Bill of Rights, and yet they can turn around and claim exclusive loyalty and adherence to both Christian values AND The U.S. Constitution.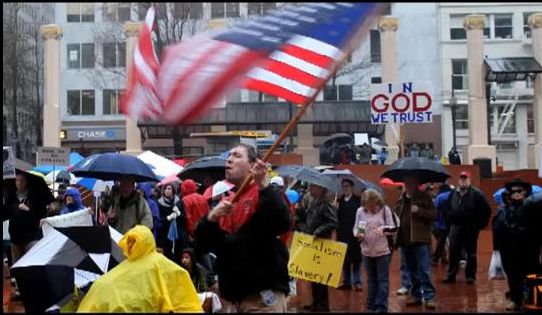 Lively debates actually start to occur between both sides on the sidewalk facing the tram stop.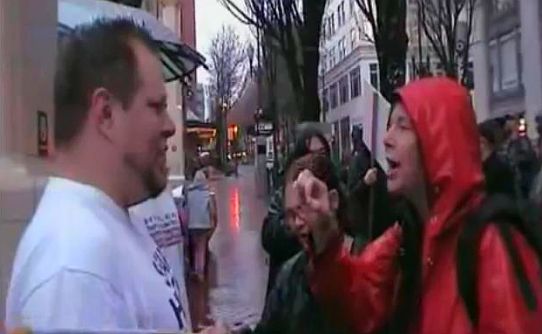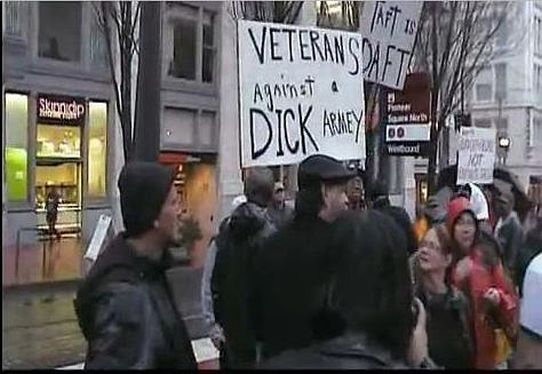 "We are not just inbred white trash any longer" exclaims Skeeter in his dapper hat, "We now have atheists, a homo, and even a token black guy in the Tea Party now"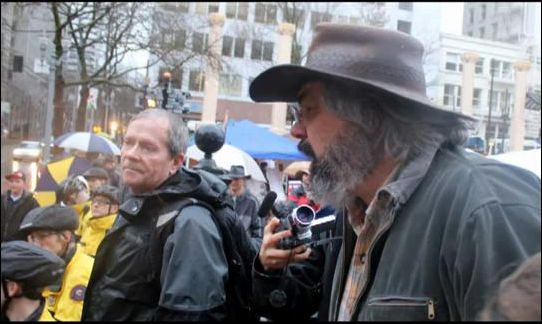 Pssst, the idiot in the lower left hand corner of the photo, holding the umbrella and video recording the counter protesters with his cell phone in none other than Dan Sandini.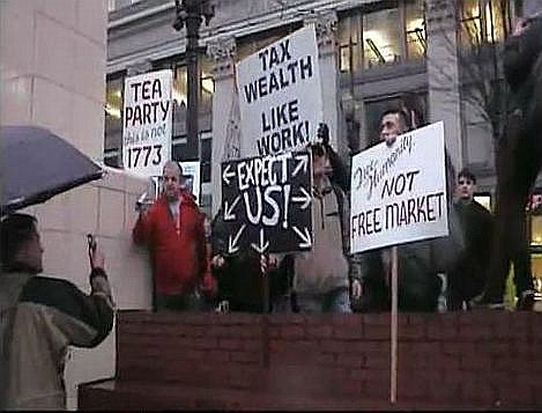 Guess who's coming to dinner?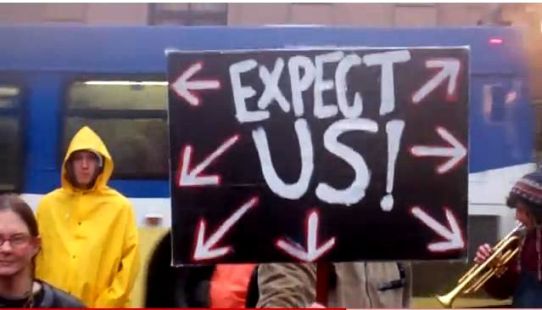 How would the demand for Corporations and the wealthy to pay their fair share of taxes add to the deficit, or harm children?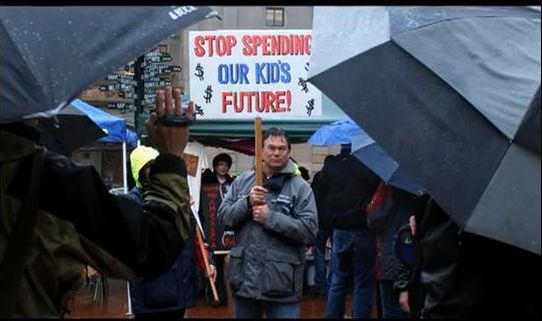 Teabaggers, all their talking points are over their heads;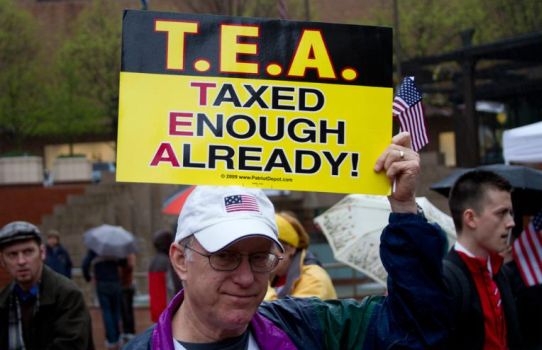 Amid complaints about high taxes and calls for a smaller government, Americans in 2009-2011 paid their lowest level of taxes since Harry Truman's presidency!
But how does YOUR tax return compare to that of some of the largest Corporations in America?
1. EXXON MOBIL made $19 billion in profits in 2009. Exxon not only paid no federal income taxes, it actually received a $156 million rebate from the IRS, according to its SEC filings.
2. BANK OF AMERICA received a $1.9 billion tax refund from the IRS last year, although it made $4.4 billion in profits and received a bailout from the Federal Reserve and the Treasury Department of nearly $1 trillion.
3. Over the past five years, while GENERAL ELECTRIC made $26 billion in profits in the United States, it received a $4.1 billion refund from the IRS.
4. CHEVRON received a $19 million refund from the IRS last year after it made $10 billion in profits in 2009.
5. BOEING, which received a $30 billion contract from the Pentagon to build 179 airborne tankers, got a $124 million refund from the IRS last year.
6. VALERO ENERGY, the 25th largest company in America with $68 billion in sales last year received a $157 million tax refund check from the IRS and, over the past three years, it received a $134 million tax break from the oil and gas manufacturing tax deduction.
7. GOLDMAN SACHS in 2008 only paid 1.1 percent of its income in taxes even though it earned a profit of $2.3 billion and received an almost $800 billion from the Federal Reserve and U.S. Treasury Department.
8. CITIGROUP last year made more than $4 billion in profits but paid no federal income taxes. It received a $2.5 trillion bailout from the Federal Reserve and U.S. Treasury.
9. CONOCOPHILLIPS, the fifth largest oil company in the United States, made $16 billion in profits from 2007 through 2009, but received $451 million in tax breaks through the oil and gas manufacturing deduction.
10. Over the past five years, CARNIVAL CRUISE LINES made more than $11 billion in profits, but its federal income tax rate during those years was just 1.1 percent.
A sign that brings REALITY back into focus: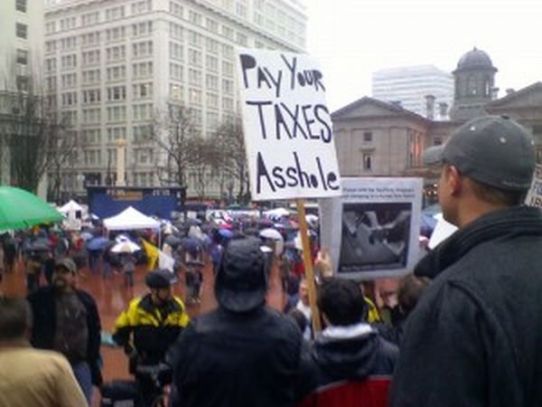 Local Media coverage of the Event;
Williamette Week; Tea Party Rallies at Pioneer Courthouse Square
ONE thing that REALLY offends me is the EXPLOITATION of CHILDREN;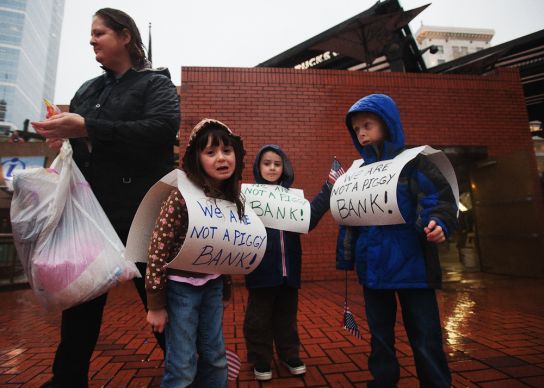 I had assumed by participating in the Counter Rally, that SOME of my anger against the Tea Party would be vented, but hanging a sign on an innocent child, and then parading the child like a DOG or PACK MULE, all for an agenda that this child is too young to comprehend, is
DISGUSTING
My resolve is
GREATER THAN EVER
and I will do
ANYTHING & EVERYTHING
legal to remove these
TEA PARTY VERMIN
from the American Social and Political Spectrum.

UPDATE; Even though the Oregon Tea Party had hosted this event in Portland's Pioneer Square annually since 2009, they opted NOT use Pioneer Square as the site to hold their Tax Day Tea Party event in 2012. Instead, they chose to go "indoors", and to relocate
"The Event",
to Clackamas Oregon, and to require the purchase "Tickets" to attend this
"Grass Roots Movement",
at the cost of $20 at advance, or $25 on the day of the event.
In retrospect, I would have to say that our "Counter Protest" was a success!

Comments?

[Main]