A counter protester tries to instill calm among some of the more irrational Teabaggers, like the guy in the previous photo with the "dapper" hat;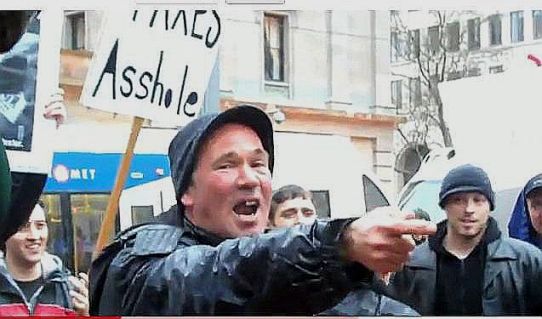 The police form a haphazard riot line upon our arrival
[we were fashionably late!];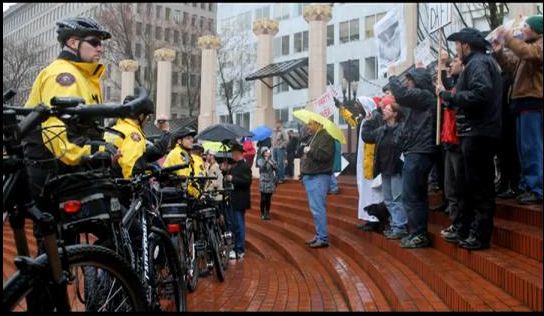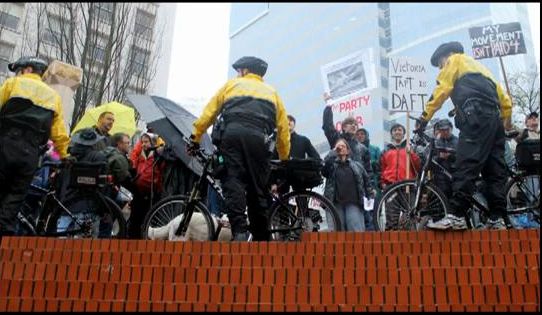 Mrs. Kuzmanich and Kristina Ribali[a "Freedomworks" agent], utilize enhanced interrogation techniques to extract vital information from a counter protester;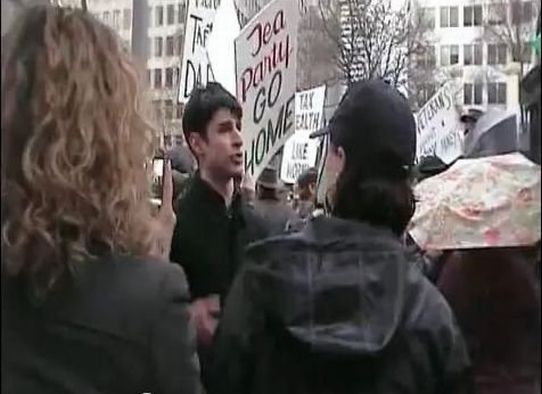 The Counter Demonstrators; engaged, and on message, confront the Tea Party head on;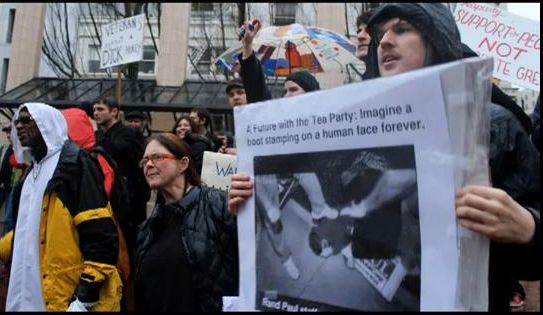 The best disinfectant is exposure to light;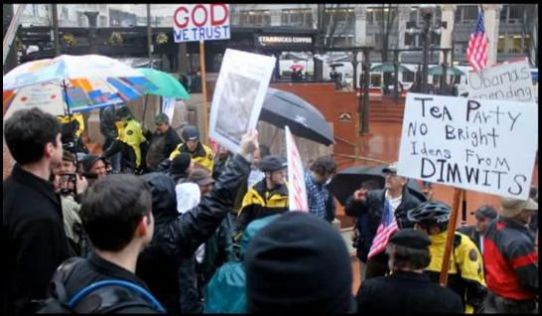 Crowd estimates for Tea Party turnout ranged from 150 to 300, but these photos suggest a more conservative number in attendance;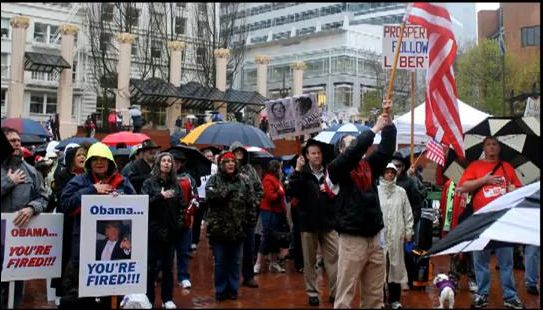 Meet the members of the Portland Welcoming Committee;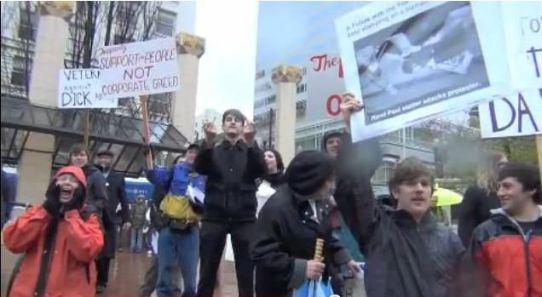 Victoria Taft's prognosis after a mental health evaluation;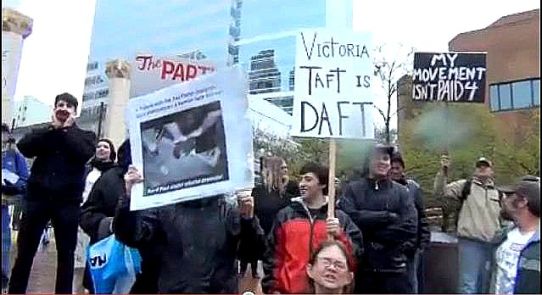 Travel recommendations for the "Out of Towners";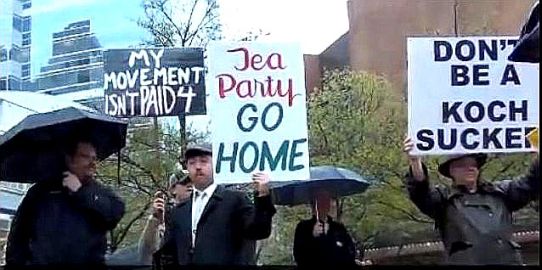 I actually had a Teabagger tell me I spelled the word "Army" wrong
[A-R-M-E-Y = Mr.

Dick Armey]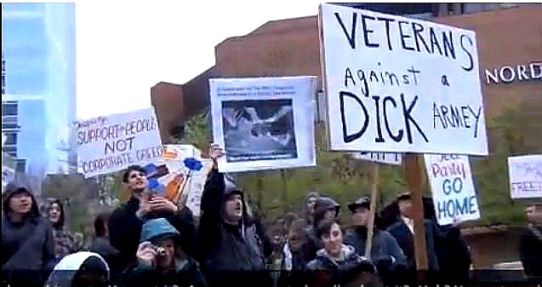 This Counter Demonstrator is taking a photo of

Dan Sandini [AKA; daylightdisinfectant], a local Portland right wing propagandist. I hope Mr Sandini received that sign language loud and clear;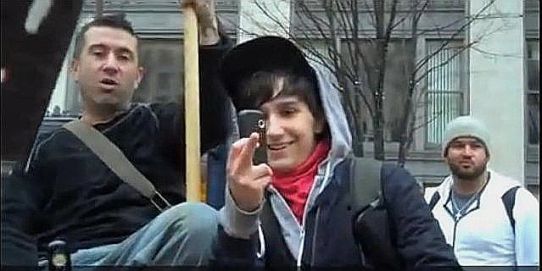 A "Short video" featuring Dan Sandini!

Racist, Fascist, Anti-Gay, pack it up and go away!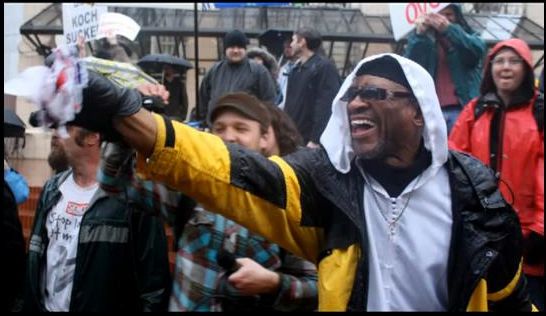 Tempers flare as passion heightens during the exchange of "Words";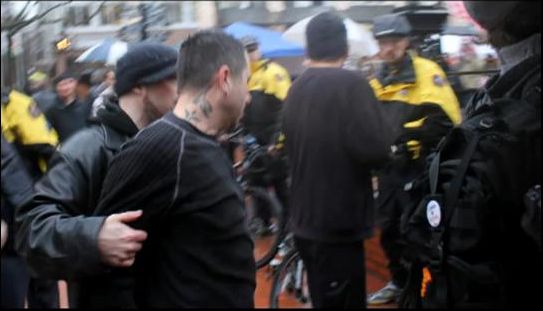 A touching family reunion, as the counter protesters point to an "Uncle Tom" among the Teabaggers!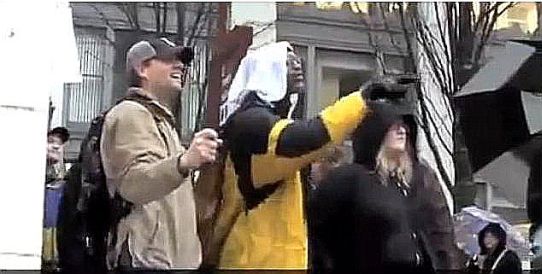 The Tea Party will bastardize the

Words of Jesus Christ, and will routinely violate the First Amendment to the Bill of Rights, and yet they can turn around and claim exclusive loyalty and adherence to both Christian values AND The U.S. Constitution;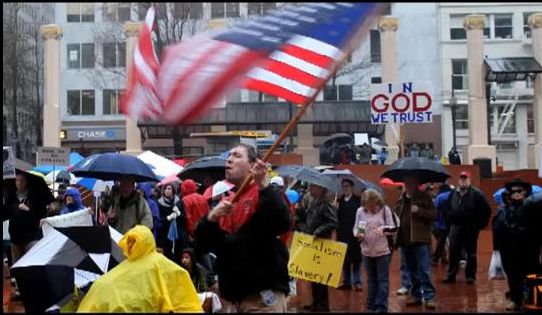 Lively debates actually start to occur between both sides on the sidewalk facing the tram stop;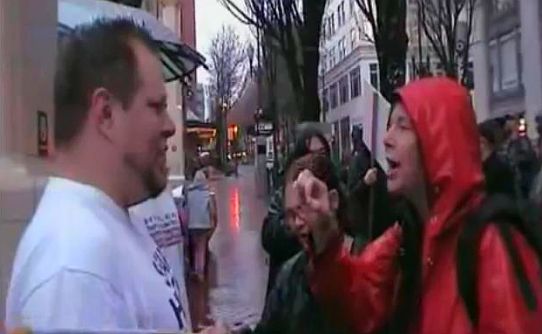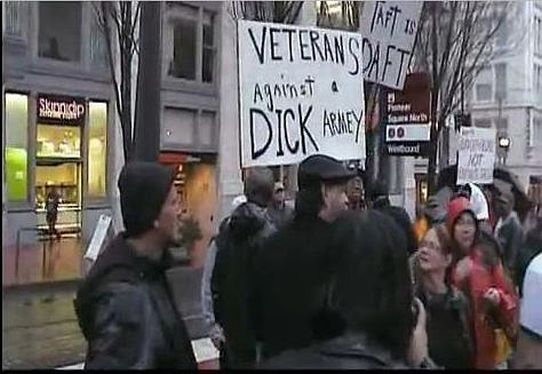 "We are not just inbred white trash any longer" exclaims Skeeter in his dapper hat, "We now have atheists, a homo, and even a token black guy in the Tea Party now"!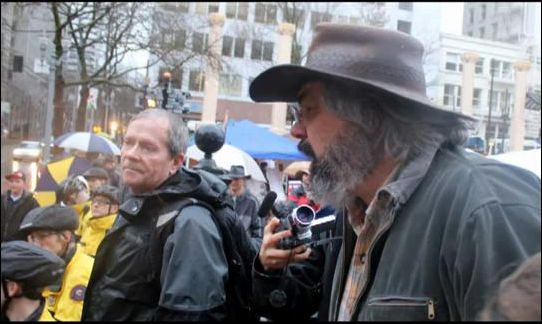 Pssst, the idiot in the lower left hand corner of the photo, holding the umbrella and video recording the counter protesters with his cell phone in none other than

Dan Sandini;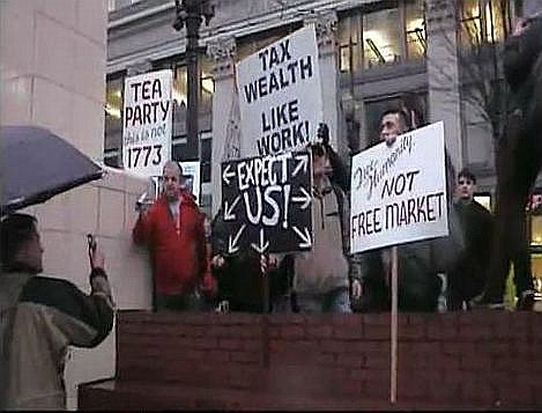 Guess who's coming to dinner?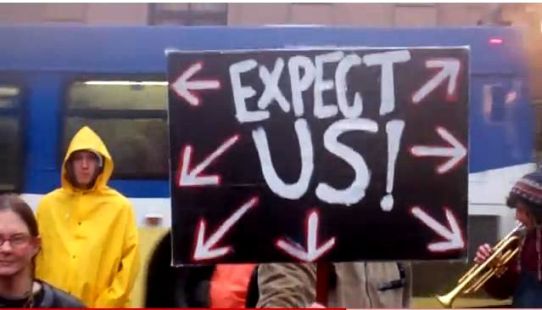 How would the demand for Corporations and the wealthy to pay their fair share of taxes add to the deficit, or harm children?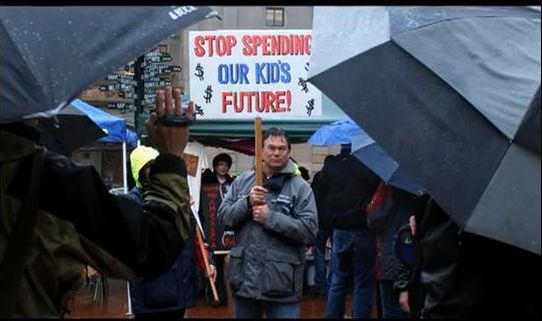 Teabaggers, all their talking points are over their heads;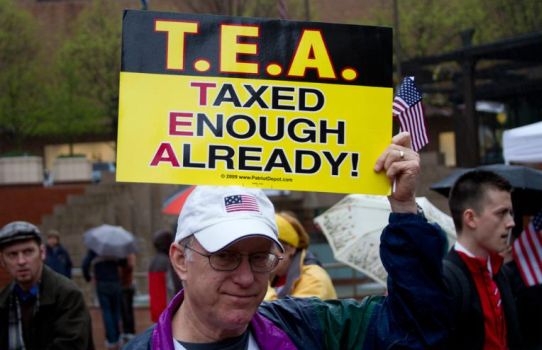 Amid complaints about high taxes and calls for a smaller government, Americans in 2009-2011 paid their lowest level of taxes since Harry Truman's presidency!

But how does YOUR tax return compare to that of some of the largest Corporations in America?


1. EXXON MOBIL made $19 billion in profits in 2009. Exxon not only paid no federal income taxes, it actually received a $156 million rebate from the IRS, according to its SEC filings.


2.

BANK OF AMERICA received a $1.9 billion tax refund from the IRS last year, although it made $4.4 billion in profits and received a bailout from the Federal Reserve and the Treasury Department of nearly $1 trillion.


3. Over the past five years, while

GENERAL ELECTRIC made $26 billion in profits in the United States, it received a $4.1 billion refund from the IRS.


4. CHEVRON received a $19 million refund from the IRS last year after it made $10 billion in profits in 2009.


5. BOEING, which received a $30 billion contract from the Pentagon to build 179 airborne tankers, got a $124 million refund from the IRS last year.


6. VALERO ENERGY, the 25th largest company in America with $68 billion in sales last year received a $157 million tax refund check from the IRS and, over the past three years, it received a $134 million tax break from the oil and gas manufacturing tax deduction.


7. GOLDMAN SACHS in 2008 only paid 1.1 percent of its income in taxes even though it earned a profit of $2.3 billion and received an almost $800 billion from the Federal Reserve and U.S. Treasury Department.




8. CITIGROUP last year made more than $4 billion in profits but paid no federal income taxes. It received a $2.5 trillion bailout from the Federal Reserve and U.S. Treasury.


9. CONOCOPHILLIPS, the fifth largest oil company in the United States, made $16 billion in profits from 2007 through 2009, but received $451 million in tax breaks through the oil and gas manufacturing deduction.


10. Over the past five years, CARNIVAL CRUISE LINES made more than $11 billion in profits, but its federal income tax rate during those years was just 1.1 percent.



A sign that brings REALITY back into focus: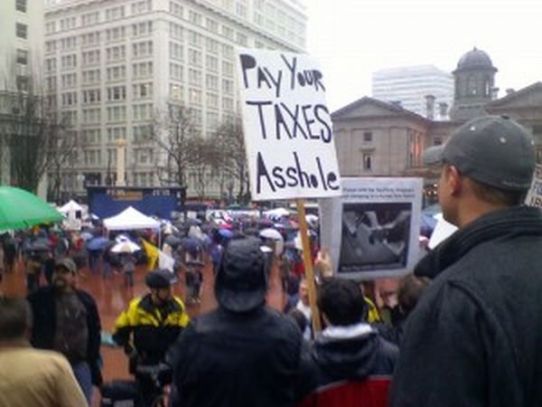 Local Media coverage of the Event;
Williamette Week; Tea Party Rallies at Pioneer Courthouse Square


The "Oregon Tea Party" Official Response


to THIS "Counter Protest.



ONE thing that REALLY offends me is the EXPLOITATION of CHILDREN;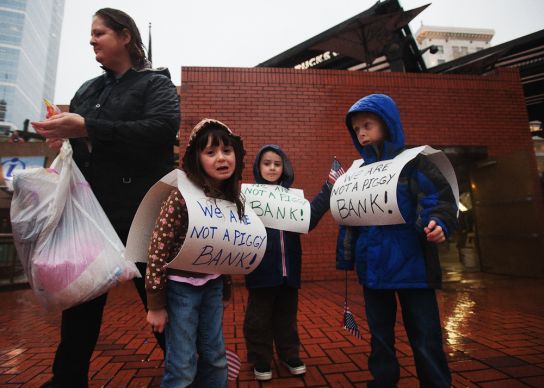 I had assumed by participating in the Counter Rally, that SOME of my anger against the Tea Party would be vented, but hanging a sign on an innocent child, and then parading the child like a DOG or PACK MULE, all for an agenda that this child is too young to comprehend, is
DISGUSTING
My resolve is
GREATER THAN EVER
and I will do
ANYTHING & EVERYTHING
legal to remove these
TEA PARTY VERMIN
from the American Social and Political Spectrum.




UPDATE; Even though the Oregon Tea Party had hosted this event in Portland's Pioneer Square annually since 2009, they opted NOT use Pioneer Square as the site to hold their Tax Day Tea Party event in 2012. Instead, they chose to go "indoors", and to relocate
"The Event",
to Clackamas Oregon, and to require the purchase "Tickets" to attend this
"Grass Roots Movement",
at the cost of $20 at advance, or $25 on the day of the event.
In retrospect, I would have to say that our "Counter Protest" was a success!




[ Chuck Glisson ]