MY
MUSIC GEAR
Jackson "Warrior" guitar that I built from parts purchased off EBay with Gold plated hardware, Jackson Alder Wood body from the Jackson Japan Factory, "Roller Saddle" Bridge, Tonerider Alnico V "Generator Pickups [8.0K Bridge / 16K Neck], Jackson "Soloist" style neck from the Jackson Japan Factory and ESP Gold plated Tuners.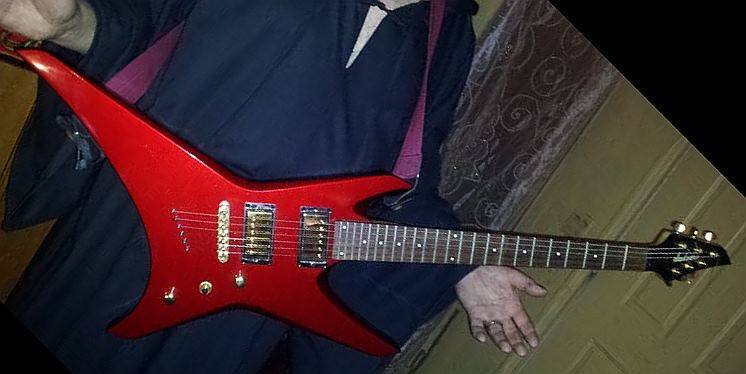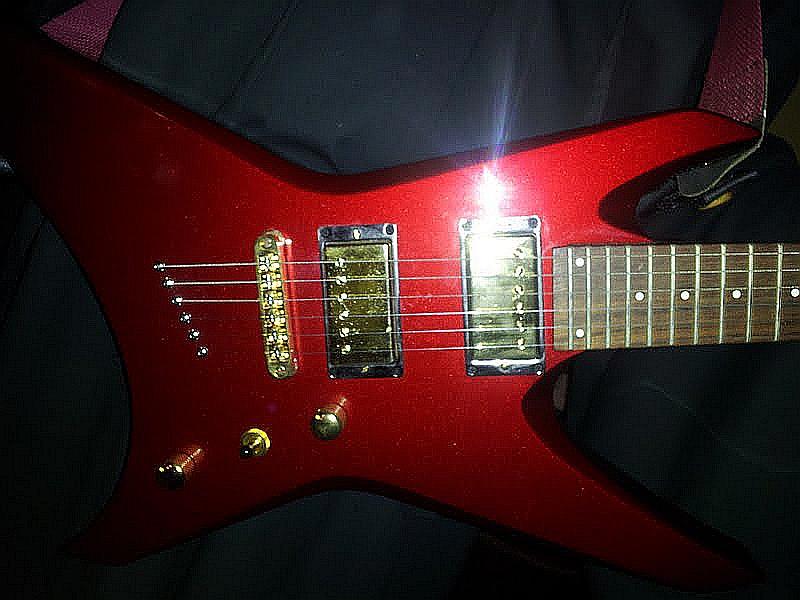 Fender Mustang[74-76?], Originally white, refinished in natural oil with Fender "Amp" Knobs, Bridge locked in a fixed position, Aftermarket Pickguard and Unknown [Used] Pickups added in 1980 [HUGE Magnets/HUGE output/THICK sound].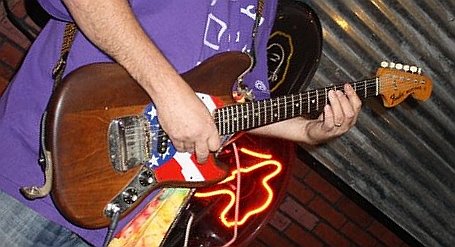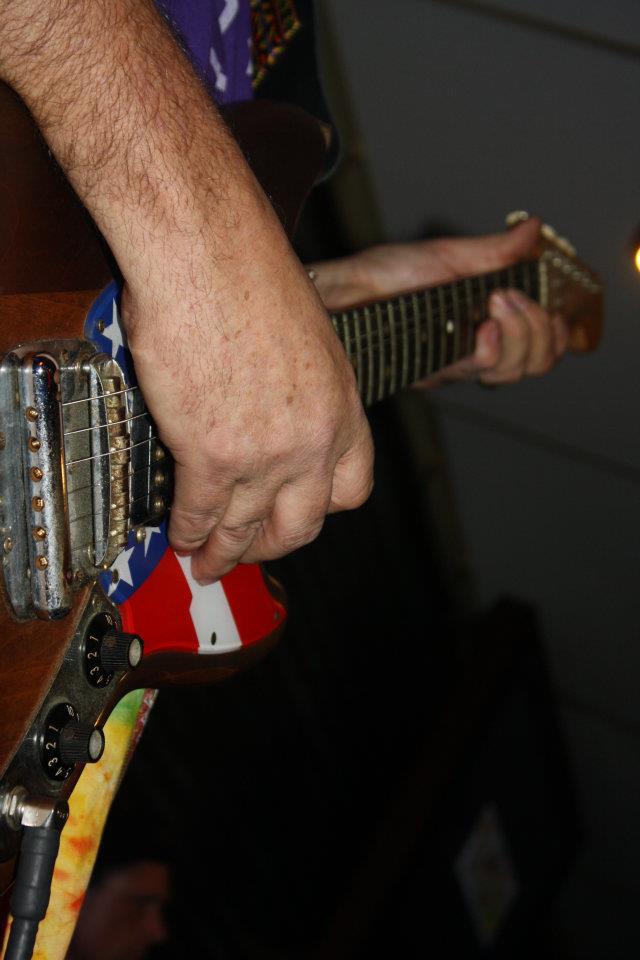 1988 Carvin V-220 with Eastern Hard Rock Maple Body & Neck, Schaller "Fixed" bridge installed by request, Neck thru Body design, Ebony Fingerboard and Inline Headstock installed by request.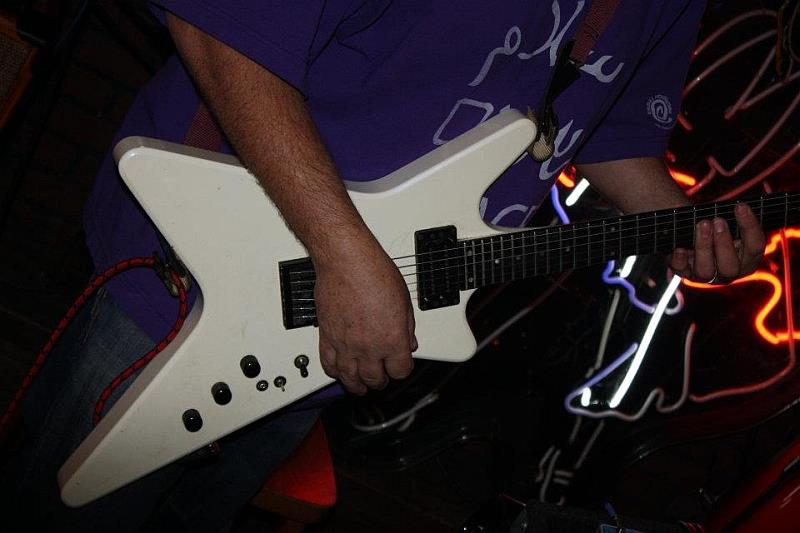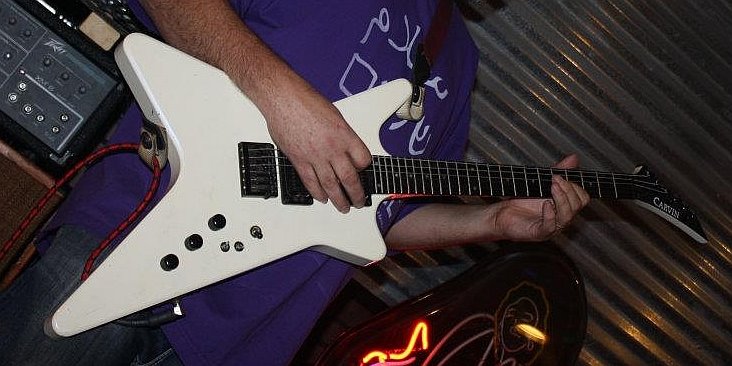 Sebring copy of the Gibson L-5 Guitar. Sebring is a Defunct Korean Guitar manufacturer. This guitar features a Maple top, sides, back, and neck, plus a Rosewood fingerboard, and Gold plated hardware, [the exception being the black "Gibson style speed knobs"]. A pleasant surprise is that this guitar plays and sounds as well as it does [nice on both counts!], when considering of the obscurity of the "Sebring" brand!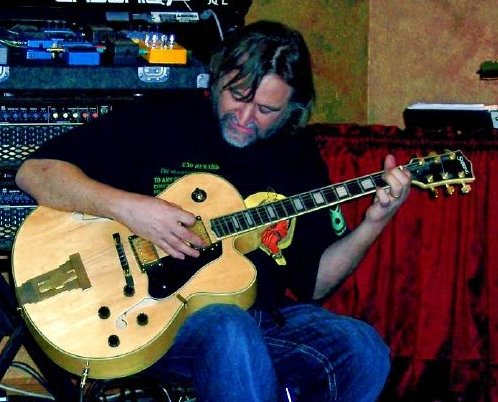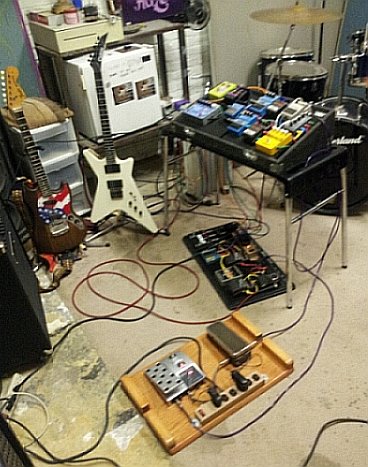 Expression Pedals with Colorsound Wah Wah[Early 70's] and Morpheus Bomber [pitch shifts].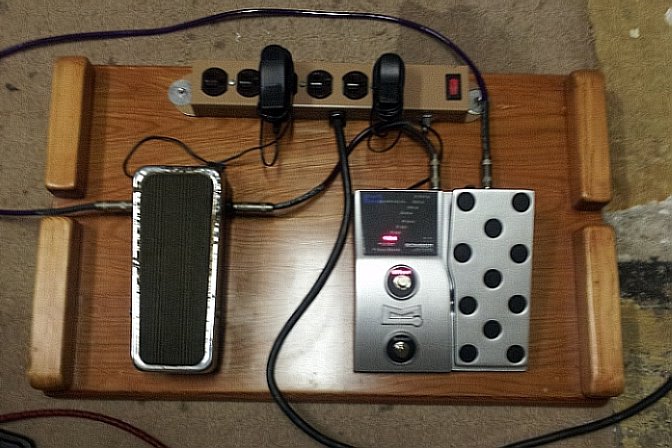 Guitar channel switching[via the Morley A, B or C switch], and Bass synthesizing created by two Boss Super Octave pedals, an EV Digital Delay, and a Boss A or B [AB-2] switch. Also on board is a Planet Waves tuner.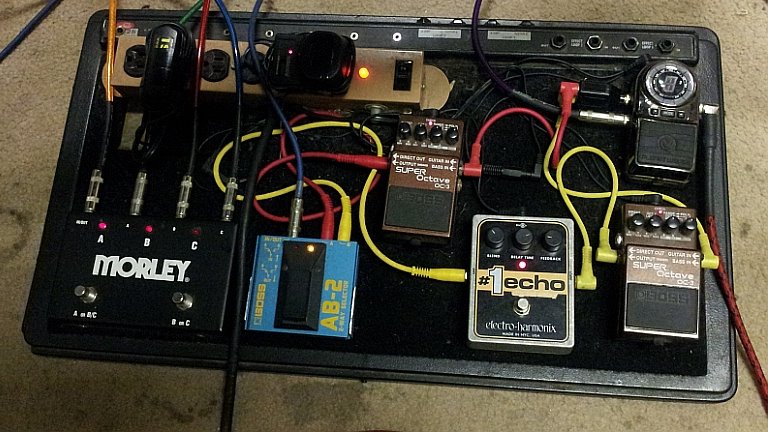 Arms level effects on Stand; Channel A[Green]= Colordrive brand Overdrive & DOD Analog Delay / Channel B[Red]= Boss Metal Zone Distortion [modded by Monte Allums for HiFi Crunch], and Boss HR2 Harmonist / Channel C[Blue]= Boss Metal Zone Distortion [Modded by Monte Allums to enhance Mids for Leads] and DOD Analog Delay / Available on all Channels; Yamaha Flanger, BBE Soul Vibe[for Univibe & Leslie speaker effects], EV Digital Memory Man, and Boss EQ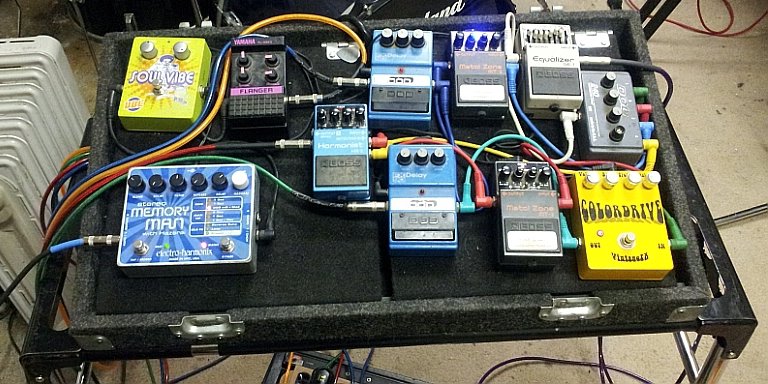 Rockman Stereo Chorus [last effect in the guitar chain]. This produces more of a "Double Guitar" sound than the traditional chorus effect.

Guitar rig w/ [1] of [2] Guitar cabinets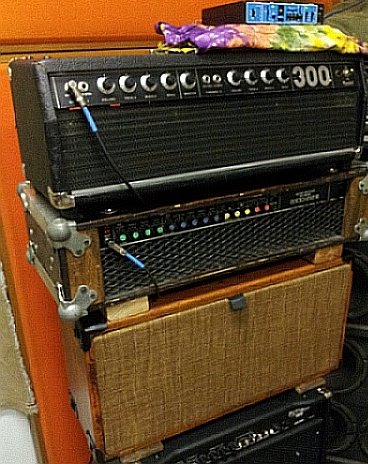 Randal 300 Guitar Amp[150 wt @ 4ohms] / Yamaha G100 III Guitar Amp[100 wt @ 4ohms]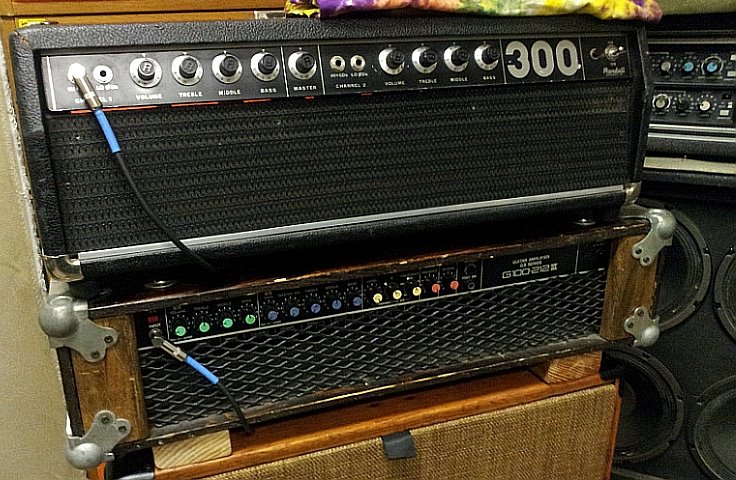 [Gallery]