My Four Main Guitars.




1976 Fender Mustang;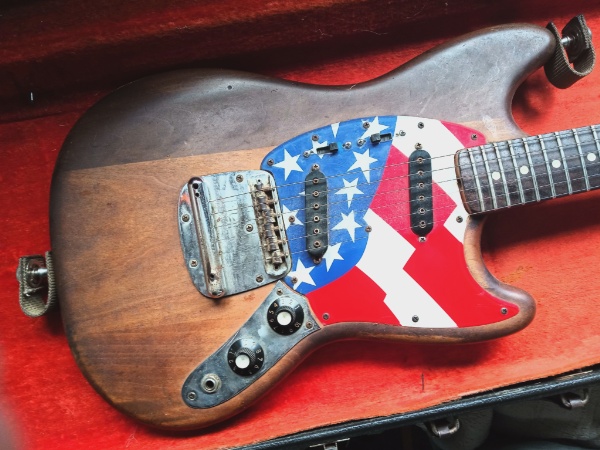 This was my very 1st, "Real" Guitar.
I purchased it at the Ramstein US Air Force Base, in Germany in 1976.
I was a 16 Year Old "Air Force Brat", at the time, and my father was an Air Force Master Sargeant, stationed at the nearby "Zweibrucken Air Force Base".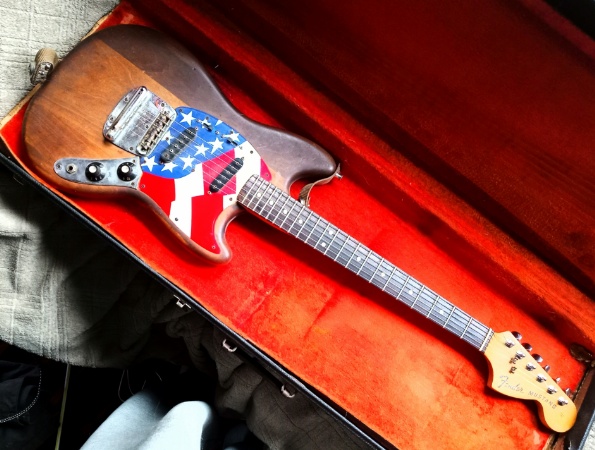 I worked all that summer in a Youth Program called "Summer Hire", just to make $$, to buy a Guitar, and I "Ended Up" with exactly $200.

The "Lowest Priced" guitar they had at the "Ramstein BX", was THIS Lone Mustang, and they had it listed at $225. It had been "Used" for "Demonstrating" Amps, and it had some rather noticable scratches in the pickguard & body, plus the strings needed replacing too, so I tried to "Haggle", and they agreed to "Knock Off" $25.

CHA CHENG! :)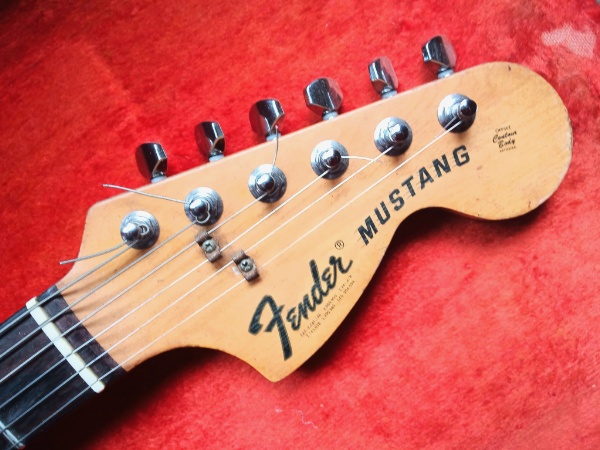 I really didn't "Care" about originality, so over the years I have made modifications to the Guitar to improve Sound, Performance & in MY opinion, the "Looks".

The 1st "Mod" was removing the UGLY "Olympic White" finish, and since I was a HUGE "Rory Gallagher" fan, I went with something that "He" had "Going On" with his Stratocaster, NO PAINT! I did, however, put some "Danish Oil" on it, for "Protection", and "Cosmetics";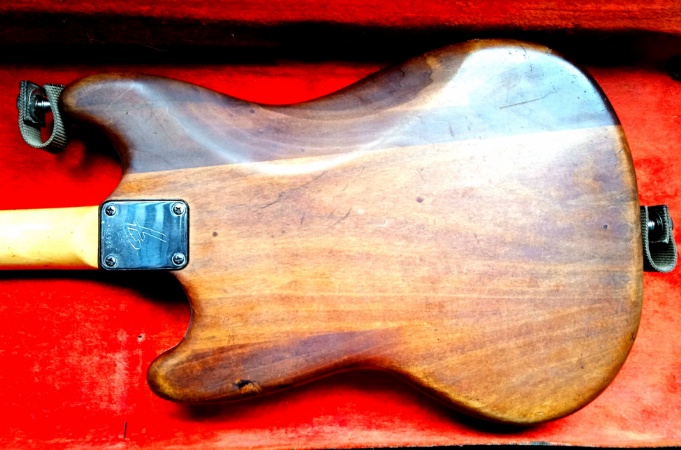 The "Next" change, was replacing the PickUps with some used Dimarzio SDS-1 PickUps, "This" occured in 1980, so the pickUps were 78-80 models, the shop that sold them to me had "No History" on them, but at $30 for the pair, I had no reason to complain.;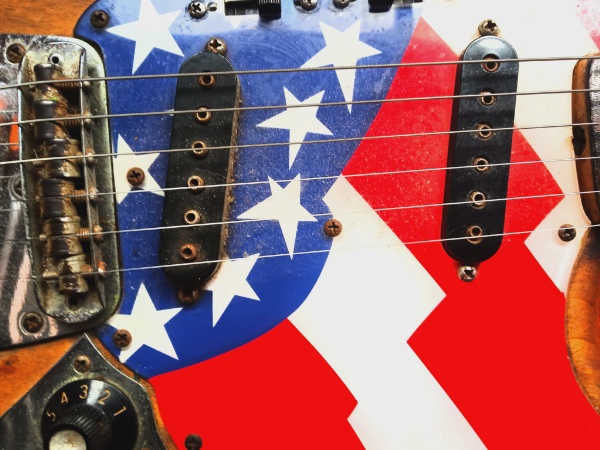 I replaced the Scratched White Pickguard with a "Customized" one with the "American Flag", to "Thumb My Nose" at Def Leppard, and "Other" British Rock Guitarists who were putting the "Union Jack" all over "Their" gear.

I replaced the "Original" Tone and Volume knobs with "Fender Amp" knobs, because I think the "Original" Mustang knobs look ugly;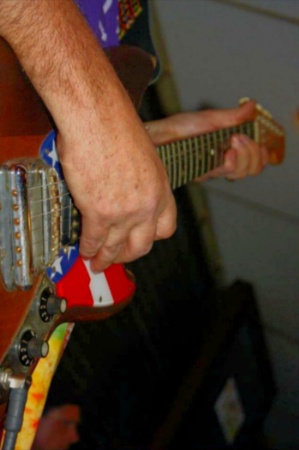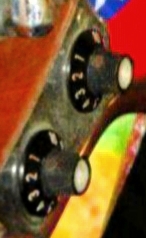 I "Defeated" the Tremolo by Threading Nuts onto the Two Tremolo Shafts on the "Inside" of the bridge, which very effectively converted the Guitar into a "Hard Tail";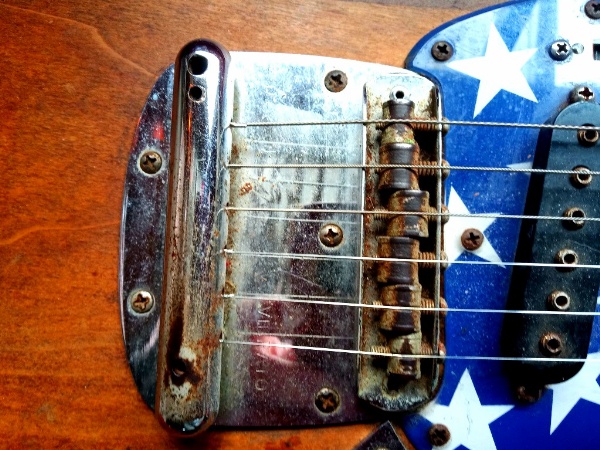 The "Final" Mod was replacing the rather "Loose & Sloppy" tuners, with Wilkinson "E-Z-LOK", 1:19 Ratio Tuners, which made a VAST improvement with "Tuning & Intonation" ;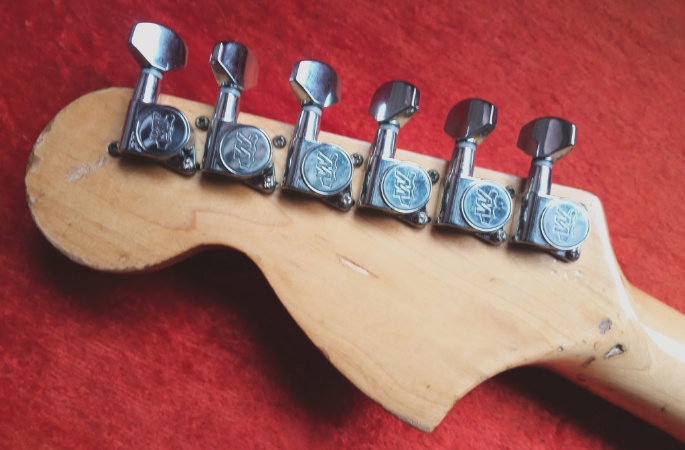 So how does the Mustang Play & Sound?

I never really, cared for the "Original" tone, it was too "Thin Sharp & Nasally", but when I replaced the pickUps, this guitar ROARED to life. At 9.36K ohm, the Dimarzio "SDS-1's" are in "Mild" PAF territory, "Output" wise, and have a tone that kind of reminds me of the Gibson P-90 "Soap Bar" PickUps.

With the "Out Of Phase" switching capability
[which is "Standard Equipment" on the Mustang];





coupled with the awesome tone of the Dimarzio "SDS-1's", I can get anything from "Hot Rodded Telecaster" through "Stratocaster" sounds, to even "Phater" almost "Humbucker" tones just "Teasing" into Les Paul territory. Versatility, would be the "Buzz Word" here.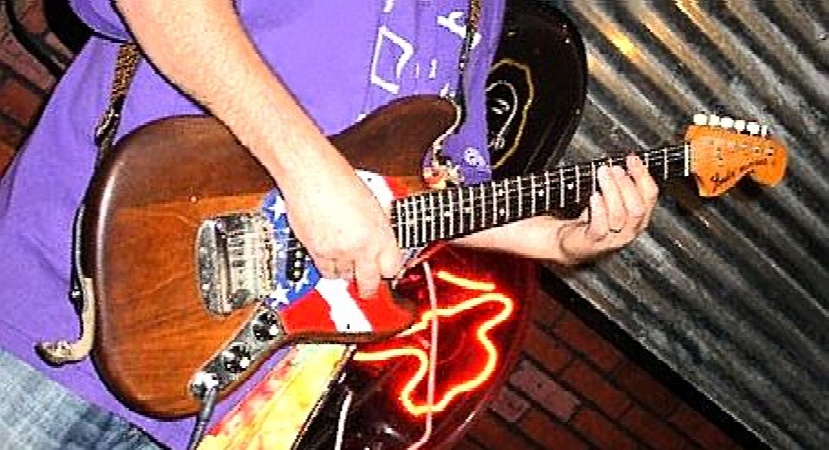 I had the Neck Re-planed, Re-fretted, and the Action and Intonation adjusted in 1986, and since "Then" this guitar plays VERY VERY "Easy"!


1986 Carvin V-220;

This is my Carvin V-220, purchased new in 1986;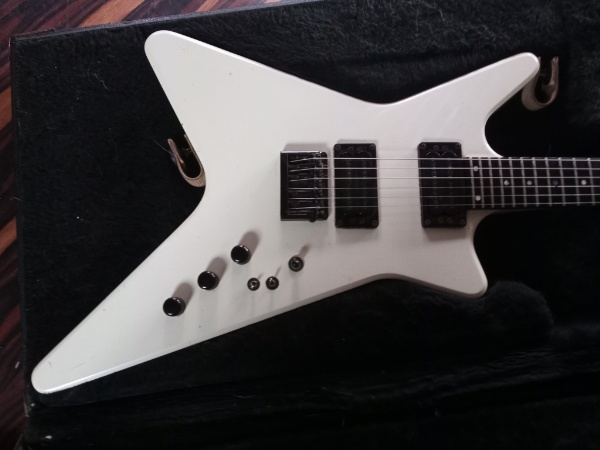 Since Carvin's are "Made To Order", and already come with "Upgraded PickUps", have a Phenomenal "Neck Thru Body" design that you CAN'T upgrade,
[Never mind the fact that you wouldn't want to anyway],
this is the only guitar I own, that I have left "As Is", AS it "Was", upon leaving the factory.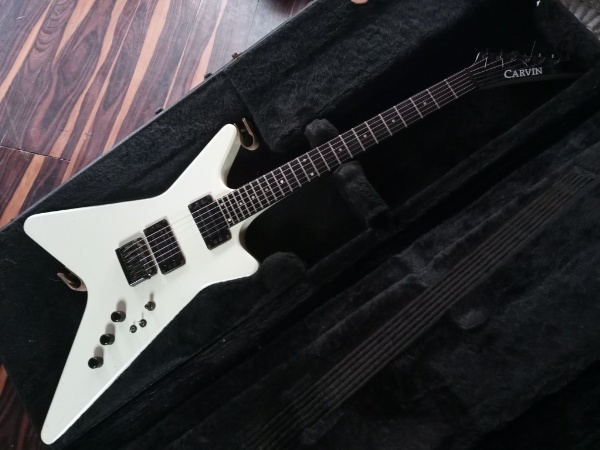 The "Personal Alterations" that I had Carvin "Do" was;

✓ Build it as a "Hard Tail", instead of with the standard Kahler Tremolo,
[a Carvin "Standard Default" offering]
and
✓ Building the neck with an "In line" Headstock, instead of the "3x3 Arrow Headstock", that comes "Stock" on the Carvin V-220.

The PickUps are Great;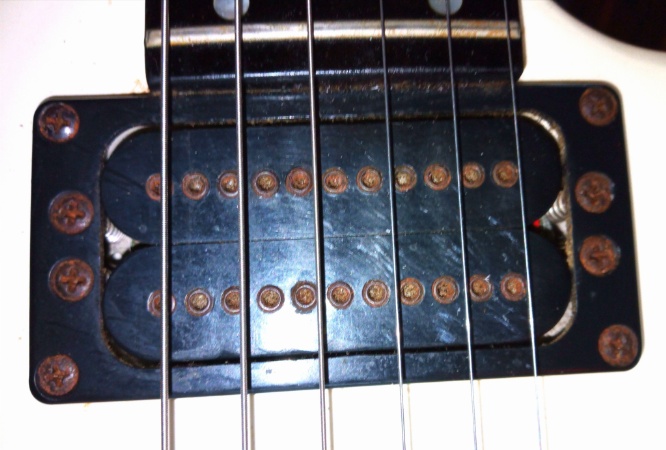 ✓at the Bridge:
[M-22SD], Alnico "V"
11.72K ohm, with 22 individually adjustable pole pieces,
✓ at the Neck:
[M-22N], Alnico "V"
7.53K ohm, with 22 individually adjustable pole Pieces.

The controls include an individual "Coil Splitting" switch, for "Each" PickUp, to select between "Humbucking" & "Single Coil" modes.

The Bridge and Tailpiece is a Schaller, Roller Saddle, "Single Intigrated Unit";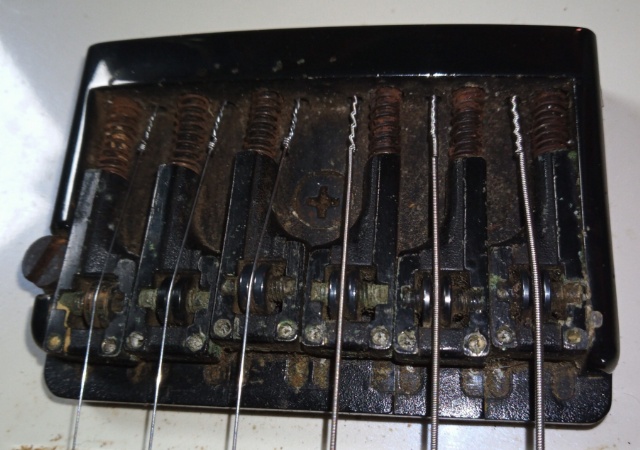 The Body is Solid Eastern Hard Rock Maple.

The "Neck" is the "Show Stealer" here, Eastern Hard Rock Maple, "Neck Thru Body" installation, with a THICK Ebony Fingerboard;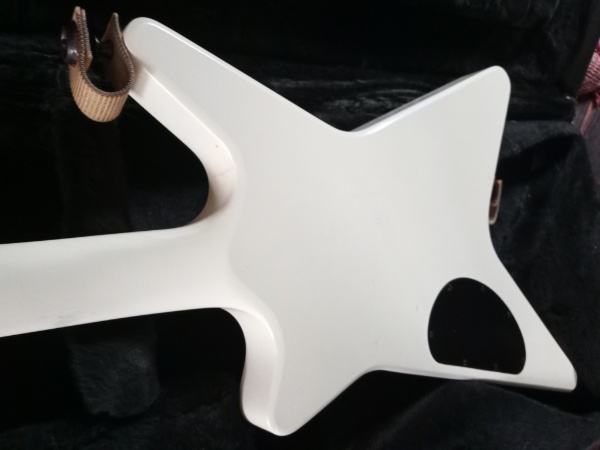 The neck is WIDE, FLAT, and T-H-I-N, making this guitar the "Easiest" guitar, to "Fret On", that I have ever tried;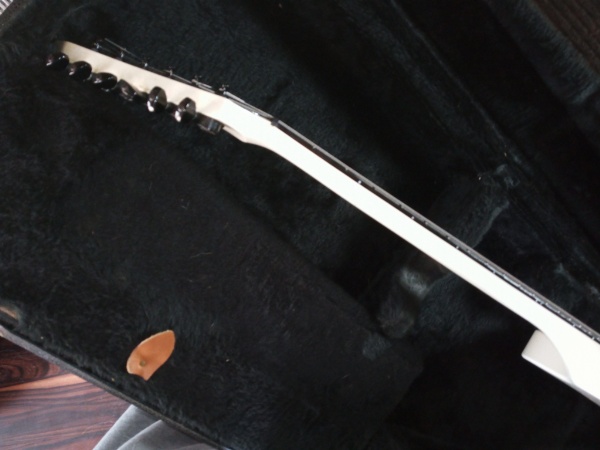 This is due to the Fretboard Radius, where;
✓ Fender Stratocaster has a; "7.25-9.50" Radius ,
and
✓ Gibson Les Pauls have a Flatter 12.00" Radius,
✓ Carvins go out to a "Broad" 16.00" Radius, interestingly most "Jackson" necks are also based on a 16.00" radius as well, easily understandable as "Fret Speed" was always "The Goal", for THAT brand as well.

With both the Body & Neck being made of Eastern Hard Rock Maple, this guitar is on the "Heavy" side, [9.25 Pounds], but due to the shape of the body, the weight isn't "Noticable", because it is so well distributed.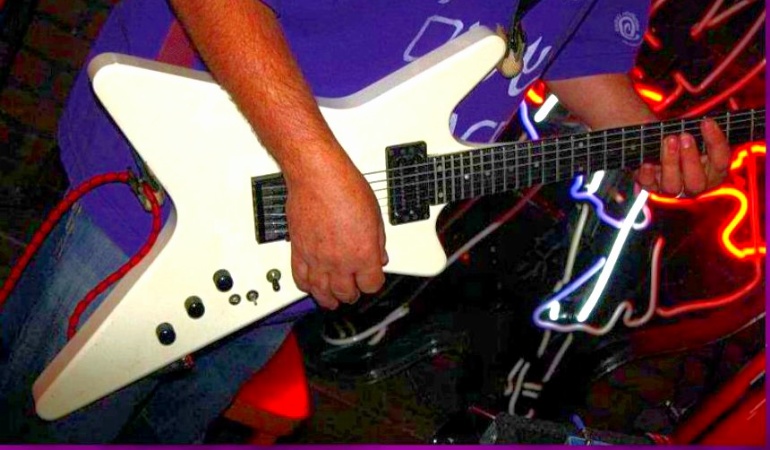 Another nice advantage to this body shape is that this guitar is extremely comfortable when played either in a "Standing" or "Sitting" position, and when played in the "Standing" position, it is VERY "Sturdy", giving you the opportunity to really "Dig In", instead of fighting the instrument for "Balance".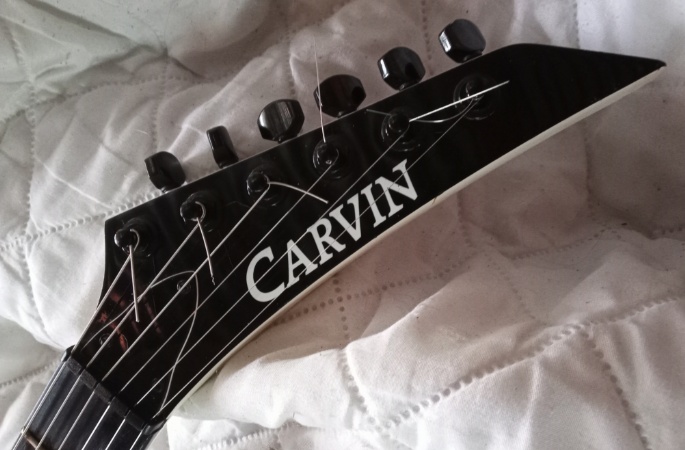 So what does this guitar "Sound" like?

The V-220 was designed during the "Mid Eighties", and was "Purposed" to capture the tones of what was "Happening" at THAT "Time";

✓ After "Classic" Rock,
but,
✓ Before "Hair Metal".

Where Electric Guitars have "Traditionally" been voiced towards either a;

✓ "Sweet Midrange Warm" Singing Tone
[Les Paul],
or a
✓ "Glassy Airy Treble" Tone
[Stratocaster/Telecaster]

My V-220, is more HiFi, the EQ is "Scooped", and it has more of that "Randy Rhodes" or "Eddie Van Halen" thing going on.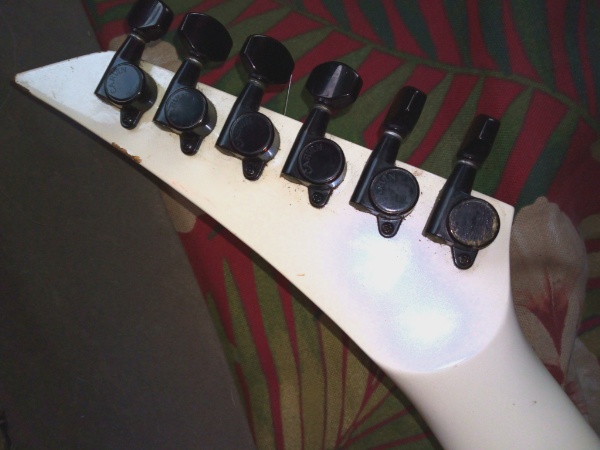 For those who love their "Strats & Pauls" out there, don't get your "Nose out of Joint" over this, I am NOT saying "Better" here, it's just a different design, for a different purpose.


Early 2000's Jackson Dinky;

Finally getting to "Know" my Slide Guitar.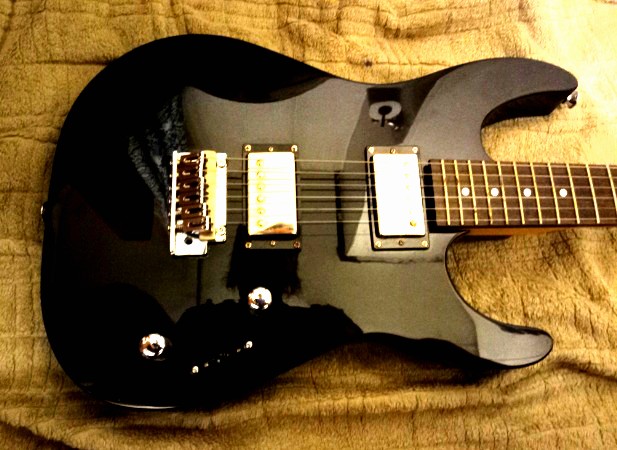 Before I got admitted to the hospital for 3 Years, I had just finished building a Guitar, to specifically tackle playing "Slide".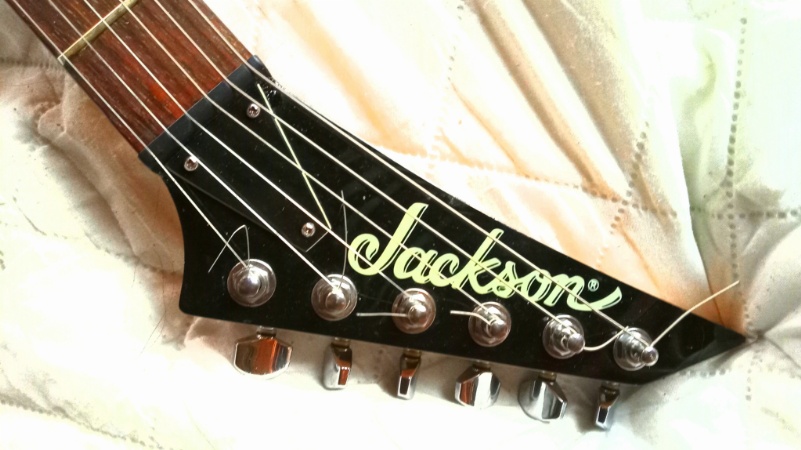 I already had a "Jackson" brand neck, with a "Reverse Inline Headstock", so I procured a Jackson "Dinky" Alder Body, ALSO in "Black", because;

✓ I didn't have a "Black" guitar in my collection,
and
✓ It would match up real nice with the Jackson neck, because "Their" headstocks are always finished in black.

I raised the action of the strings by;

✓ Replacing the Jackson "Nut" with one made for a Gibson Les Paul, which due to the difference in design, raised the strings at the "Nut" to the "Perfect" level;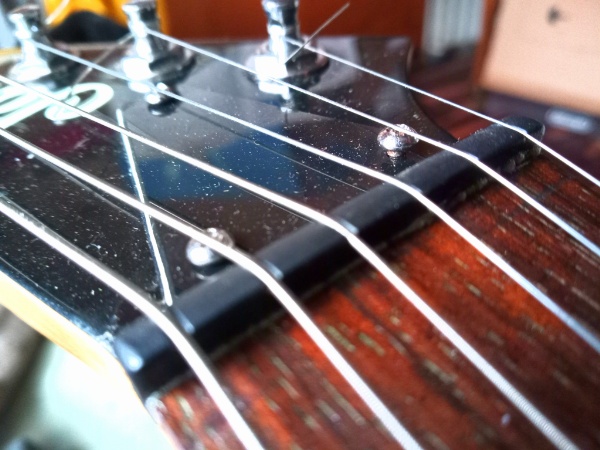 ✓ Placing a Stainless Steel Metal Bar,
[cut to my measurements by a co worker who has a metal shop in his garage],
behind the bridge saddles on a stock Jackson Tremolo/Bridge;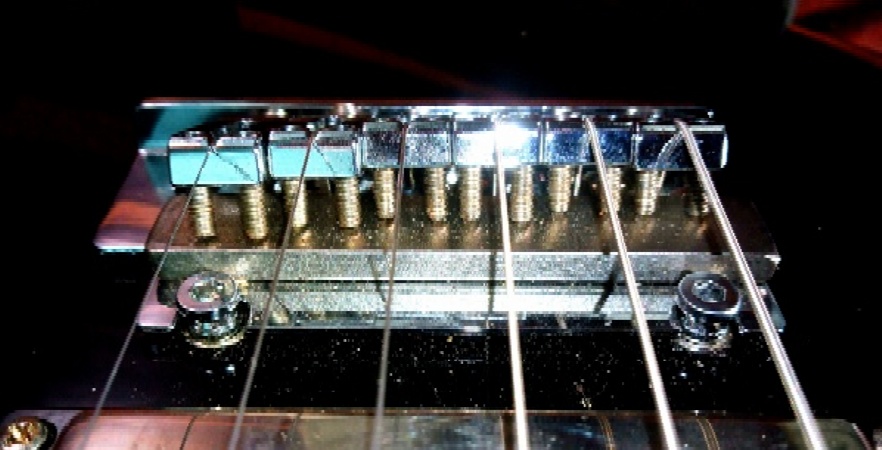 I also defeated the tremolo and converted the bridge assembly to a "Hard Tail", via the old "Wood Block" in the tremolo cavity trick;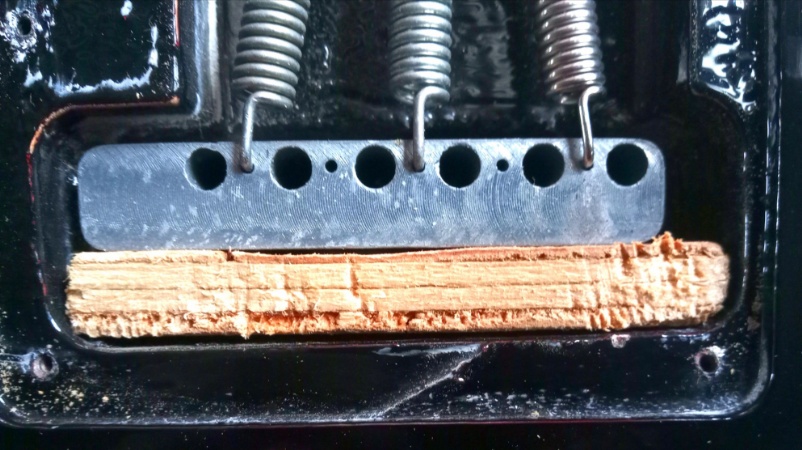 I installed "Tonerider" brand "Rocksong" model pickUps in the body, they are mildly Hot Rodded Clones of the Gibson "PAF" humbuckers".
[Alnico ll,
11.8K ohms @ the Bridge 7.9K ohms @ the Neck];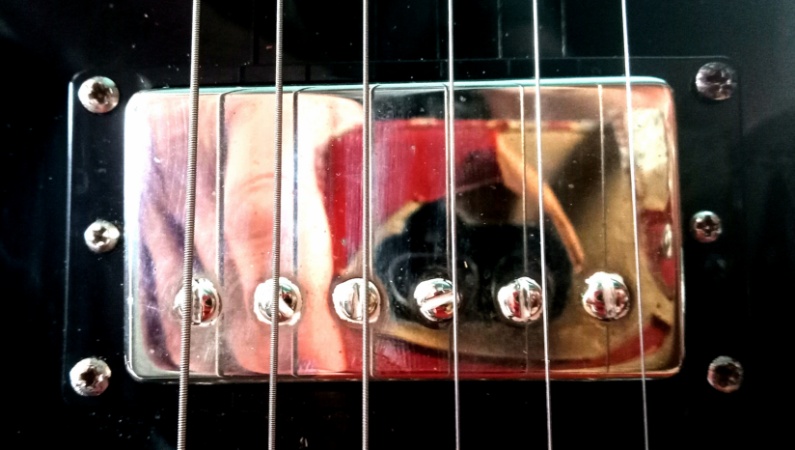 All parts are "Chrome" plated because I think Chrome accents really well against "Black".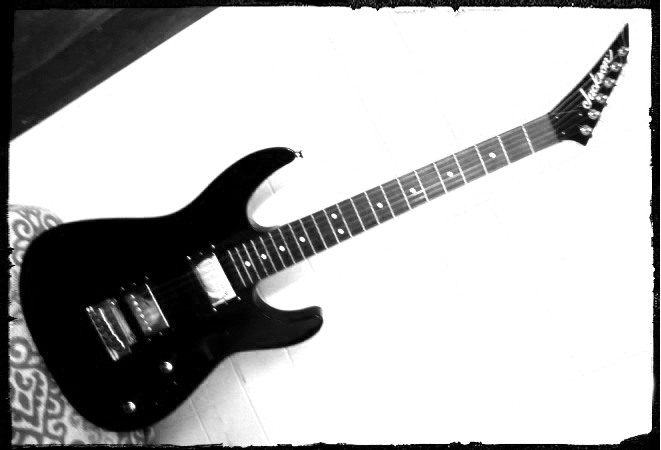 The guitar "Pulls off" slide beautifully, and produces a tone that is as thick as
"Caramelized Molasis",
and I like what I "Went" with because:

✓ You don't often see Jacksons fitted with "Chrome" covered PickUps, which makes a Jackson look very unique,
and
✓ I have never seen anyone use a "Hair Metal" style guitar for playing "Slide", but Why Not!


Ebay Frankenstein Jackson Warrior;

I built "This" guitar, completely from the "Ground Up", with parts "Individually sourced", off of Ebay;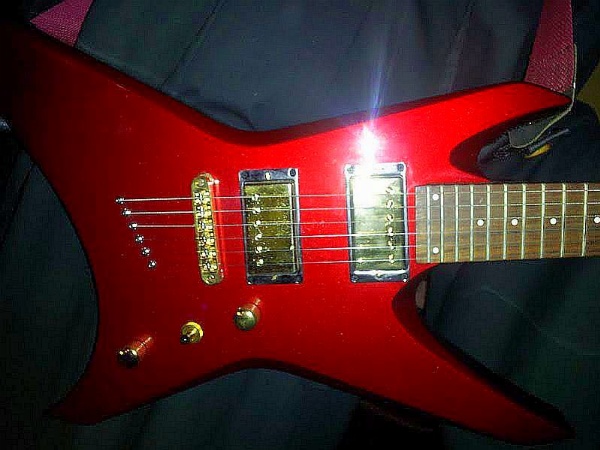 I always liked the Jackson Warrior Body, but wanted to do MY "Take" on the Instrument. I've never seen a Jackson Warrior offered with the "Combined Combination" of;

✓ "Infernal Red"
[Kind of Jackson's "Take" on; Candy Apple Red]
✓ "Gold Plated Hardware", including "Gold PickUp Covers",
✓ The Jackson 3x3 AT1 Style Headstock,
✓ HARD TAIL,
[Not seen on too many "Jacksons"],

all on the "Same" Instrument.

That was the goal, so I procured all the parts over time, ALL off "EBay", and put it all together.

The Bill of Materials;

✓ One unused Jackson Warrior "Alder Wood" Body, in Infernal Red, made at the Japanese Factory, set up as a "String Thru Body" Hard Tail;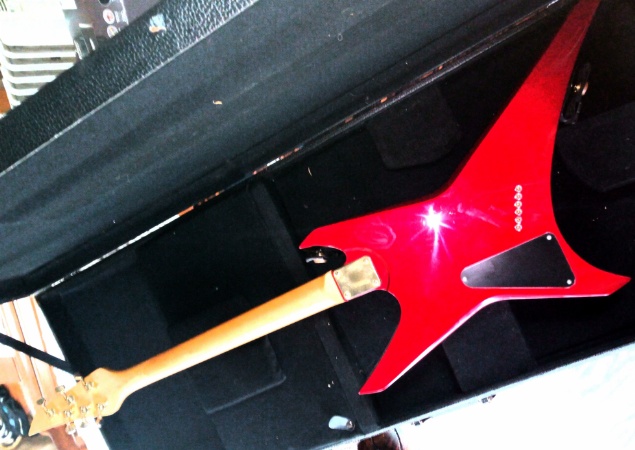 ✓ One Jackson 3x3 AT1 Style Guitar Neck, also built in Japan;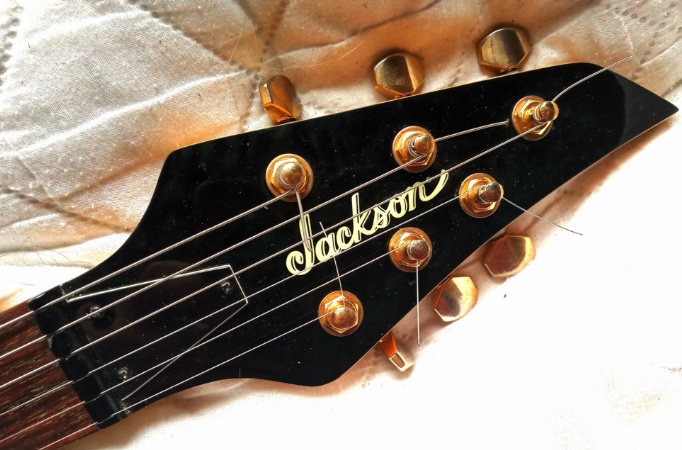 ✓ One set of used Gold Plated "ESP Brand", tuners;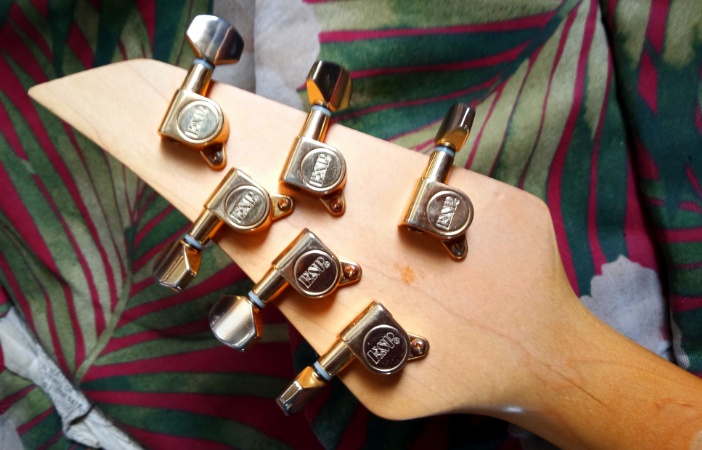 ✓ A JEM of a Gold Plated "Roller Saddle" from Korea;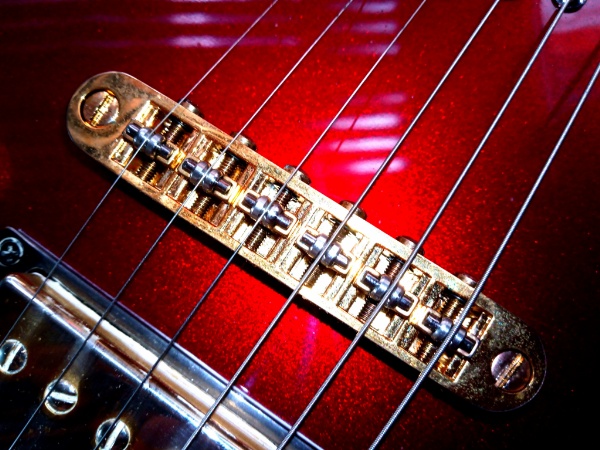 ✓ Gold Plated Knobs, Selector Switch, and Strap Locks;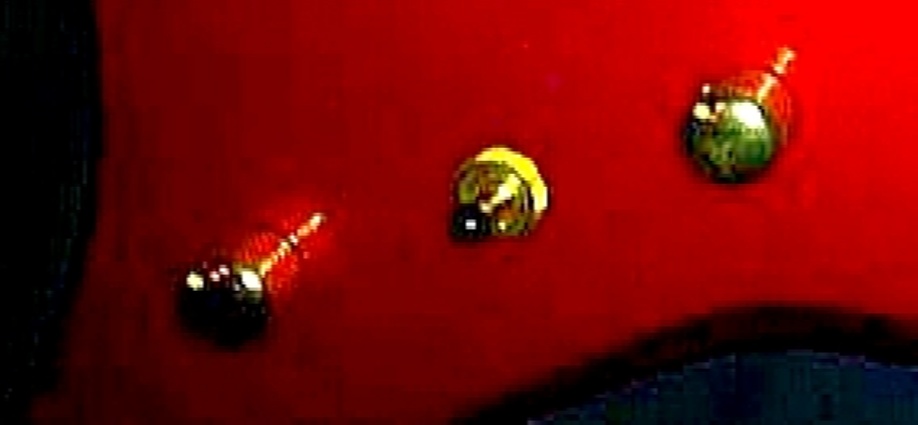 ✓ A set of, Gold Plated "Tonerider" Brand, "Generator" Model, Alnico V HumBucking PickUps;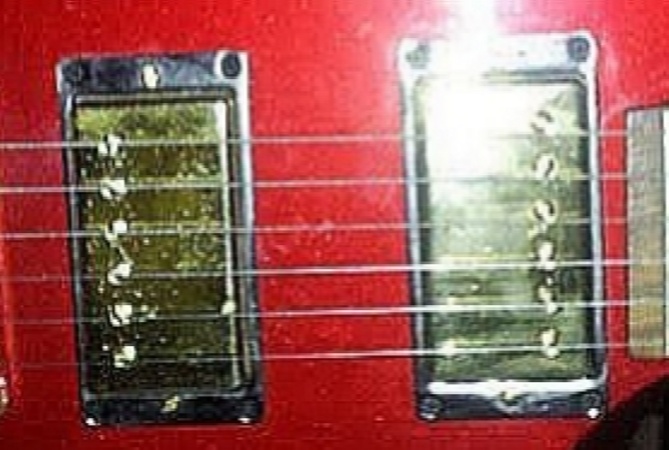 15.7 Ohms@ The Bridge
and
7.8 Ohms@ The Neck.

So what was the "Result"?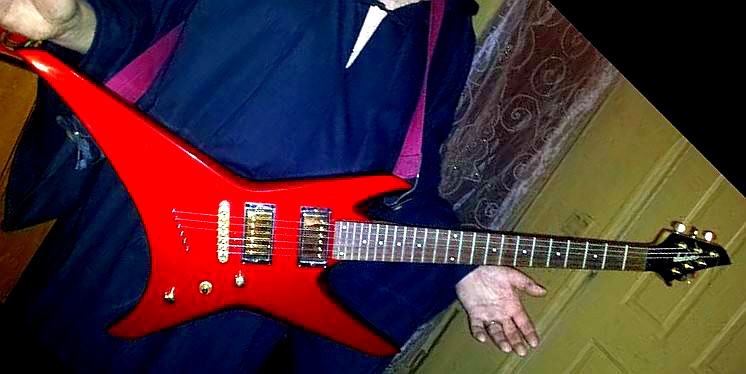 I ended up with an "Easy Playing" dazzler that tone wise, has a "Hard" Mid Range Bite, and is a "Dead Ringer" for a Gibson SG. It "Covers" Flying V, Explorer and Firebird ground really well too. I can "Voice" Frank Marino, Angus Young, Johnny Winter, and Lonnie Mack with "Ease" on this Axe, and I am VERY pleased with the "Aesthetics" Too!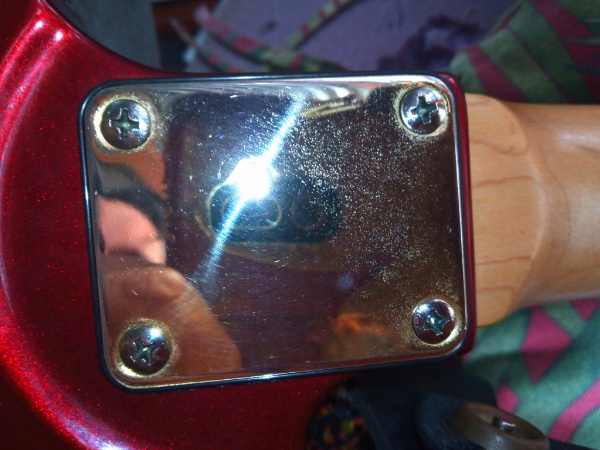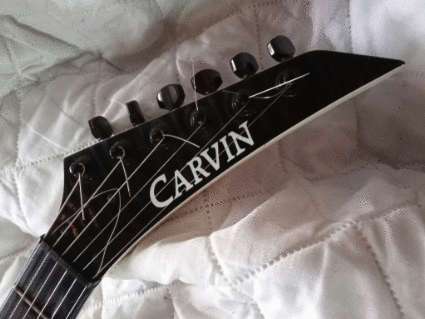 [ Main / Guitars / Effects / Amps ]